Celebrating Achievements in the Coral Triangle
Start Date:
Thu, 13/11/2014 (All day)
Upload an image: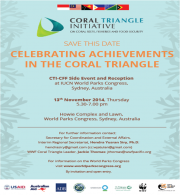 Date: 13 November 2014
Place: Sydney, Australia
Description: The CTI-CFF has registered a Side Event and Reception titled "Celebrating Achievements in the Coral Triangle" at IUCN World Parks Congress, to be held on Thursday 13th November, 2014. This high level event, hosted by the CTI-CFF, the Australian Government and other Development Partners, will bring together representatives from the Coral Triangle community and beyond to showcase the CTI-CFF, celebrate its achievements and highlight future directions and new commitments. It will create space to reflect on progress in marine conservation since the creation of CTI-CFF for the benefit of biodiversity and people, including the Coral Triangle Marine Protected Areas System and its flagship MPAs and Ecosystem Approach to Fisheries Management. More details please see attachment below.
Contact: Hendra Yusran Siry, Ph.D: hendrasiry@gmail.com (cc: wjatulan@gmail.com), Jackie Thomas: jthomas@wwfpacific.org