Activity Report: The 3rd Coral Triangle Fisheries Forum
Document Date:
01 February 2018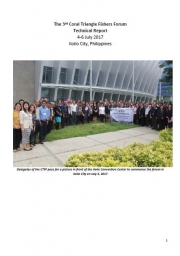 The Coral Triangle Fishers Forum (CTFF) is a regional platform hosted by the Coral Triangle Initiative on Coral Reefs, Fisheries and Food Security (CTI-CFF), designed to enable fisher folks and other industry stakeholders to share experiences and perspectives about the issues in the Coral Triangle region that affect them, and find common ground in achieving sustainable and equitable fisheries.
Originally organized and launched by WWF Coral Triangle Program, the CTFF meetings gather regional stakeholders, especially local fishers and industry representatives, to share experiences and identify solutions around specific problems faced by fisheries in the region. At each gathering, consensus recommendations are developed for future action and/or advocacy at policy and decision-making tables. Peer-to-peer exchanges and technical training sessions are organized for participating fisher folks. Individual members, associations, agencies and other members are also asked to make specific commitments around these recommendations, as well contribute to the shared action plan that is developed at each meeting.
The CTFF is designed to hold periodic gatherings around a specific theme and with meetings rotating between countries in the region. Themes and sub-themes are selected with the aim that outcomes will help deliver on the goals of the CTI-CFF Regional Plan of Action. The inaugural CTFF meeting (Bali, 2010) focused on bycatch mitigation and best practices; this was followed by the CTFF-II meeting in Fiji in 2012, focused on traceability and IUU.
Resources by Subject
Resources by Type
Resources by Countries