CT Day 2016: Instagram Contest #noplace4plastic
Start Date:
Thu, 19/05/2016 (All day)
End Date:
Thu, 09/06/2016 (All day)
Upload an image: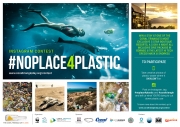 The Regional Secretariat of CTI-CFF, in partnership with the World Wide Fund for Nature (WWF) and www.thecoraltriangle.com, will be putting the spotlight on the ever-growing problem of plastic pollution in celebration of Coral Triangle Day via a social media campaign called #noplace4plastic, which derived from the main theme "Save Coral Triangle – Stop Plastic Pollution".
The Instagram contest is expected to encourage users to post a creative photo of plastic where it should not be - in any natural environment, whether land or sea - using the hashtag #noplace4plastic.
Through #noplace4plastic, CTI-CFF and its development partners aim to reach a multitude of people via social media and build important discussions around the need to reduce plastic waste to help protect critical coastal and marine environments, which are valuable to human wellbeing.
A number of sponsors have generously donated prizes to help support this activity and entice more people to participate in this contest, including a luxury resort stay at Gaya Island Resort in Malaysia, a 5-day all-inclusive dive package with Scuba Junkie in Borneo, Cressi dive gear, BYO underwater guides, and Coral Triangle coffee table books.
To learn more about the #noplace4plastic Instagram contest and the other on-the-ground events happening in celebration of Coral Triangle Day, visit: www.coraltriangleday.org