Advancing Women's Leadership in the Coral Triangle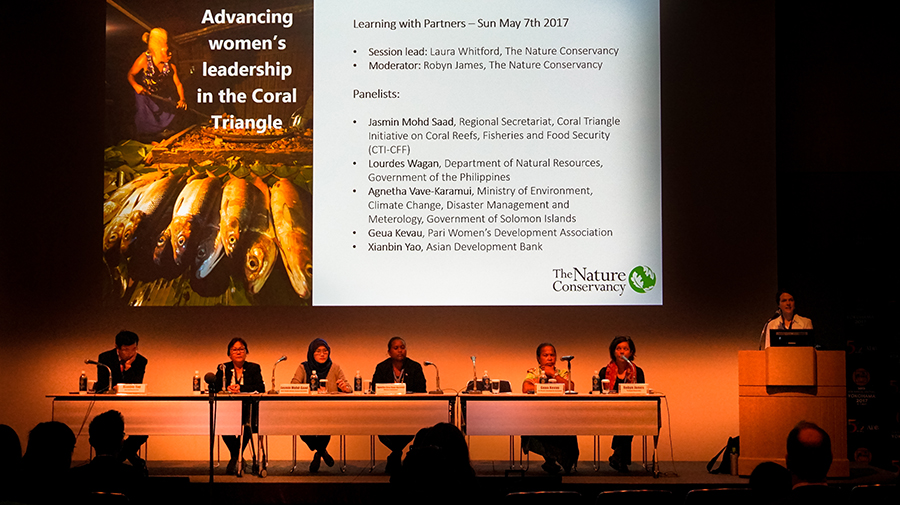 ADB's 50th Annual Meeting, Yokohama, Japan

7th May 2017 | Civil Society Program
Panelist
Agnetha Vave-Karamui, Ministry of Environment, Climate, Disaster Management and Meteorology, Government of Solomon Islands
Geua Kevau, Pari Women's Development Association, Papua New Guinea
Jasmin Mohd Saad, Coral Triangle Initiative Regional Secretariat
Xianbin Yao, Director General, ADB Pacific Department
Moderator
Robyn James, The Nature Conservancy Melanesia Program and Gender Expert
Summary
The Coral Triangle Initiative Women Leaders Forum (CTI-WLF) have recently been profiled at the 50th ADB Annual Meeting – Civil Society Program session on 7th May 2017 in Yokohama, Japan.
The Coral Triangle Initiative for Coral Reef, Fisheries and Food Security (CTI-CFF) objectives and targets to preserve and manage the marine resources within the region was heavily supported by donor governments' agencies; development organizations and NGOs since its inception in 2007. The CTI-CFF also focuses on cross-cutting issues such as women's equality that leads to the formation of the Women Leaders' Forum (WLF) with the aims to establish its own network of women; to recognize women leaders in their respective fields and empower more women in decision-making processes; and ensure that more affirmative actions are taken towards gender mainstreaming.
The first presentation by Ms. Jasmin Saad from the CTI-CFF Regional Secretariat focuses on the challenges as a women manager working in an inter-governmental organization such as the CTI entails issues such as: (i) continuity of programs; (ii) achieve recognition & equal representation; (iii) availability of comprehensive peer-network; (iv) ensure gender mainstreaming; and (v) equal opportunities. However, the WLF can move forward working together with Development Partners and future partners through: (i) establishment of a platform for a women network; (ii) expanding partnerships to advance capacity building; (iii) embracing men as advocates; (iv) investments in youth; (v) private sector partnerships; and (vi) gender mainstreaming.
CTI would like to implore ADB especially, to consider a longer-term relationship with CTI and help achieve the SDG goal on (SDG 5) achieving gender equality especially towards implementation of gender mainstreaming programs and policies and invest in youth for all CTI future programs.
Presentations from three (3) other panellists highlights the challenges, issues and best-practices for women inclusion on their own capacity in their workplace and throughout their experience in the respective countries. Ms. Agnetha and Ms. Lourdes highlights women issues from the perspective of a public / government officer; and programs that have been implemented in Solomon Islands and Philippines respectively. Ms. Geua Kevau from the Pari Women's Development Association based in Papua New Guinea highlights the plight and challenges of women wanting to be heard and taken seriously in most decision-making processes for the benefit of their own welfare and their children's future.
Lastly, Mr. Yao – ADB's Director General for the Pacific Department recognize the significant economic contribution that women and youth can provide, both nationally and internationally. He reassured everyone that gender quality and youth involvement shall always be taken seriously when planning its strategic programs.
In conclusion, the panel agreed that gender mainstreaming have to be taken seriously and implemented at all stages of planning; to recognize youth as the driver for women's agenda and identify men as advocates / supporters to empower women and girls; and educating boys to respect the opposite sex and their potential.
For more profile information on the panellist, please visit:
https://www.adb.org/annual-meeting/2017/events/womens-leadership-coral-triangle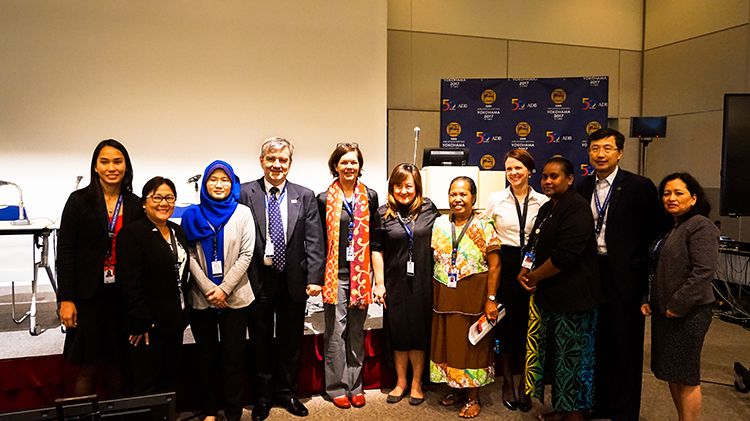 Resources by Subject
Resources by Type
Resources by Countries